Ashland High School


Class of 1964

Announcements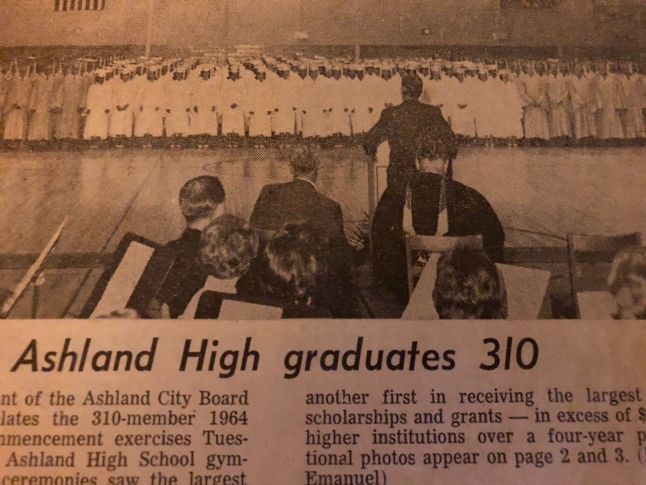 ANNOUNCEMENTS
Remember this????

What's Happening at our 55th:

We have lots planned for our 55th reunion(September 13-14). The weekend has lots to do and suggestions for even more happening in and around Ashland under Where to stay/what to do. Below you willl find a list of activities that have been planned for our class. Should information need to be updated or added to, it will be done on this page. How to proceed.... Register and then go to Reunion events. Click to see the first activity and info on the event. Use the drop down menu to view all of them. It will be here, in Reunion events, that you can register and decide how to pay.

Friday: Meet and Greet at Ashland Golf Club( Shanks) Hors d'oeuvres and a Cash Bar. This will begin at 5PM and finish at 9PM.

Friday: Attend the Arrows Game. Jason Goings, AHS AD, will have a block of seats reserved for us. Meet at the stadium by 6:30-6:45.Tickets must be reserved and purchased by July 15. The cost is $5.00. Most probably there will be time to return to the Meet and Greet, or to go elsewhere as you choose.

Saturday AM: Tour the High School and Archer Auditorium.

Saturday noon: Rekindle old memories at Schine's Theater with a tour, stories and a snack.

Saturday Evening: 55th Reunion dinner at Bella Bleu's

WHEN YOU ARE ON THE EVENTS PAGE YOU WILL NOTICE THAT YOU MAY PAY EITHER BY CREDIT CARD OR CHECK. IF YOU HAVE DECIDED ON "THE CHECK" OPTION, PLEASE DO NOT SEND UNTIL MAY 1ST. ALL NECESSARY INFORMATION IS PROVIDED ON THE EVENTS PAGE TO COMPLETE YOUR TRANSACTION.